Art File Upload - FTP
Upload Your Artwork
Please Include your Order Number in the File Name.

We recommend uploading as a high resolution .PDF
You may also send the file in the following types: jpg, jpeg, psd, tif, tiff, eps, ai. We prefer that you send .PDF and .EPS files with outlined fonts and links embedded. These files are easier to handle and will likely speed up your turn-around.

OPTION 1 : Use Browser Based FTP Transfer
1. Open a web browser such as Internet Explorer, Firefox, or Safari

2. Enter the URL https://artupload.exavault.com/login in the address field
Username: GuestUpload
Password: greatprint!
3. After logging in, press Upload Files to browse files on your computer and then begin the upload transfer.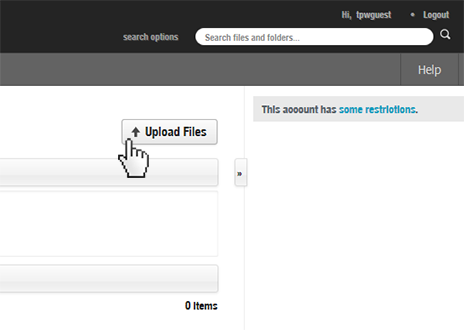 OPTION 2 : Direct FTP Connection or via FTP software
In the FTP transfer window, enter the following information:
Enter the Host: tpw.exavault.com
Enter the Username: GuestUpload
Enter the Password: greatprint!
Files on your computer are displayed in the left hand side of the file transfer window. Select the file you wish to upload and click the blue arrow in the middle to upload your file to the FTP site...
An upload progress bar will be displayed at the bottom of the window on the Transfers Tab. When the upload is complete, the progress bar will disappear.
To protect your proprietary information, this site is a blind FTP drop box. When the upload is complete, you will NOT see your file displayed in the window on the right. You may confirm a successful upload by reviewing the Queue or Console tabs found at the bottom of the file transfer window.